---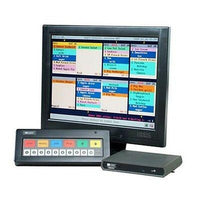 Logic Controls LS6100 Aldelo Kitchen Display System (KDS) Bundle for Order Processing & Monitoring in Kitchen
Aldelo Kitchen Display Server License required, INCLUDED
What's included:
Logic Controls LS6100 Kitchen Video Controller (with Power Cord)
KB1700-G-BK-RJ-RJ LOGIC,  KB1700, 17 KEY PROGRAMMABLE KEYPAD (BUMP BAR), BLACK, 6'  RJ-RJ CABLE
22" Flat LED Monitor
Aldelo KDS License
Logic eNet is a new generation of kitchen display system that  incorporates many important features from both Logic Net and  Logic Serve. For example, Logic eNet features the same level of  reliability of Logic Net and uses the popular ethernet topology of Logic Serve. The key component of Logic eNet is the new LS6100 module.
The important features of LS6100 include:
IP addressable module with ethernet connection
Ultra compact size: 1.0" x 5.1" x 6.3"
Reliable rugged and fanless design
Low cost
No operating system is required
Downloadable firmware to emulate any proprietary module
Touch screen support
Powerful self-diagnostics
Optional built-in build card function
Dual serial ports to drive a printer plus another serial  device
Low operating power consumption, less than 1.5 watts
back