---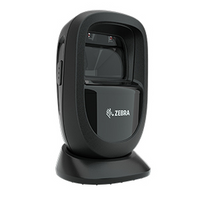 Zebra DS9308 Hands-Free Image Barcode Scanner
THE LITTLE PRESENTATION SCANNER WITH BIG FUNCTIONALITY

From convenience and drug stores to quick serve restaurants and other retail environments — counterspace is limited, bumps and spills may be an everyday occurrence, and the need for high customer satisfaction is always critical. Introducing the DS9300 Series, the presentation scanner that fits anywhere, scans everything, and is built for all-day reliability.

Scan it all — with virtually no exceptions

Quickly and easily capture 1D and 2D barcodes, including tiny, high density codes, codes printed on a label or displayed on a phone, DotCode and dotted DataMatrix codes through cellophane, as well as new invisible Digimarc codes. Zebra's DS9300 Series' state-of-the-art technology captures barcodes in virtually any condition, on any media. The 800 MHz microprocessor, high-resolution megapixel sensor and Zebra's exclusive PRZM Intelligent Imaging technology work together to easily capture poorly printed, damaged, crinkled, faded, truncated and low contrast barcodes. The curved exit window helps minimize stray light, reducing reflections from barcodes printed on glossy paper or displayed on a screen that can blind the sensor.

Rapid-fire can't-miss scanning

When it comes to ease of use, the DS9300 Series outshines the competition. With swipe speeds that are up to 50% faster than competitive scanners, the DS9300 Series can capture barcodes as fast as they are presented. And the largest field of view in this class eliminates the need to move items around to find the "sweet spot".

Intelligent adaptive illumination

The LEDs dynamically adapt to the environment, automatically dimming when not in use and activated when a barcode is present. The LEDs are also recessed and virtually invisible, reducing eye annoyance.

Instantly capture and process driver's license data (Product DS9308-DL4U2100AZN only)

Use the information on a driver's license to instantly verify age, populate loyalty and credit card applications and monitor returns to prevent fraud.

| | |
| --- | --- |
| DS9308-SR4U2100AZW | ZEBRA EVM DS9308-SR STANDARD RANGE USB KIT, INCLUDES SCANNER, CBA-U21-S07ZBR SHIELDED USB CABLE INTERFACE, BLACK |
| DS9308-DL4U2100AZN | ZEBRA EVM DS9308-DL STANDARD RANGE DRIVERS LICENSE PARSING USB KIT, INCLUDES SCANNER, CBA-U21-S07ZBR SHIELDED USB CABLE INTERFACE, BLACK |
back